About COE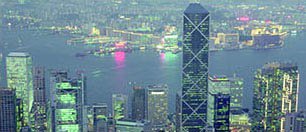 COE was established in 1994, during the past ten years, has experienced many hazards and survive. Meanwhile, COE devotes to provide the logistic service of high quality and high standard with good faith enterprise culture. Along with the ISO international quality certification system of the overall implementation of the service, its control and management standardization got the further upgrade.

COE has been always stick to strategy of steadily develop and now has become developed a large-scale logistics enterprises with a number of branches in Hong Kong and mainland. At the same time, COE are still constantly develop and in progress. We will continue to adhere to the good faith management idea, working with sincere service to pay back to the society.

COE has established the legal agent cooperation relationship with many well-known international express company, it also get a long-term cooperation with many famous airlines all over the world. The business scope of COE has spread to domestic air freight, and international air freight, mainland transportation, customs transit shipment and Hong Kong to China transit shipment, express transportation, etc. COE has employed senior professional staffs to engage in domestic express, the Hong Kong to China transportation, international express delivery, and import and export goods declaration, air cargo transport.

COE using existing operating platform, network advantage, overseas resources, combined with market demand, developing the international parcel, international network products with the rapid development of e-commerce business. At the same time with the famous e-commerce business enterprises to establish strategic cooperative relations, through the resource integration, innovation, providing the global logistics service, warehousing and delivery services in China to Hong Kong, Taiwan, and oversea for the domestic and overseas e-commerce customers.


Business Scope
Worldwide Courier

COE, as one of the biggest direct deal agents of the famous express companies, offers high-quality, speedy and reliable services to you.

■ Document & parcel door to door express.
■ All kinds of worldwide express analytic service.
■ Free supply of packaging materials, pick up service, and track & trace service
■ Cross border trucking direct connection to the four largest international courier agent distribution centers to highlight the strength of COE and ensure timeliness.

Worldwide Network

COE, with well-selected regional network worldwide and advantage of high frequency of flights at Hong Kong airport, provides economical, flexible, and reliable worldwide express service.

■ Document and parcel door to door express service;
■ Consultation for destination Customs;
■ Real time, web-based track & trace

Post Air Mail& Postal Service

COE integrate the channel resources, developing the suitable services for applying the electronic commerce customer different delivery time requirements and price demand.

■ Worldwide network small packet:high cost performance, limitation of controlled, average delivery time 5 to 10 days;
■ The postal service: low price, large quantity, to reach any postal outlets around the world

Delivery in Hong Kong

With large fleet and dedicated staffs in Hong Kong, COE Hong Kong offers pick-up and delivery service to the airport, seaport, warehouse and customer's assigned locations.

■ Half day delivery and Time definite Delivery;
■ Real time POD (Proof of Delivery) and endorsed document return service;
■ Prepaid, charges collect, and collect payment

Warehousing Services

To make further important operating system efficiently, especially in well-designed warehouse. we divided a specific area in the process of packaging. Packing and sorting with sufficient space to classification of goods. Kwai Tak Industrial Center is our property. Closer to the airport, container terminals, warehousing services as following:

■ Third-party logistics warehousing services;
■ Complex sorting and packaging operations to a distribution (fast flow consumer goods / electronics / fashion logistics);
■ Fast delivery of goods added daily;
■ Accurate bar code scanning inventory management system;
■ Re-labeling and repackaging services scheduled;